[WPPA+ dbg msg: Photo 692 does not exist in call to wppa_get_picture_html(). Type = sphoto]

[WPPA+ dbg msg: Photo 684 does not exist in call to wppa_get_picture_html(). Type = sphoto]

[WPPA+ dbg msg: Photo 693 does not exist in call to wppa_get_picture_html(). Type = sphoto]

[WPPA+ dbg msg: Photo 687 does not exist in call to wppa_get_picture_html(). Type = sphoto]

[WPPA+ dbg msg: Photo 688 does not exist in call to wppa_get_picture_html(). Type = sphoto]

[WPPA+ dbg msg: Photo 686 does not exist in call to wppa_get_picture_html(). Type = sphoto]

[WPPA+ dbg msg: Photo 689 does not exist in call to wppa_get_picture_html(). Type = sphoto]

There was a big BBQ for the tenants at our marina this weekend so I decided to take Suki to the boat for the first time.  The car ride was the difficult part.  I get that it's stressful for cats to ride in cars, but after an hour drive she was still yowling that awful caterwaul that cat's do.  Once she was on the boat everything was jake.  She cruised around and checked everything out, ate some food, drank some water, peed in her cat box, then chilled out on the wood floor.  She quickly figured out how to get up and down the companionway steps and cruised around on deck for a bit.  Scarily (to me at least) she likes to look over the edge so we're going to order the lifeline netting toute suite.
Fourth of July BBQ
The BBQ was good.  The food was yummy and Kurtis made some delicious ribs.  Many people brought their dogs it made for interesting people and dog watching.  We left Suki on the boat and she slept all afternoon.
Dinghy Fun Run
After the BBQ Rich took part in the dinghy fun run.  We have a six-foot inflatable and several people commented on how small it is.  Our neighbors on D Dock said "it was the smallest blow-up boat they've ever seen."  When you put it that way it sounds like it's something you would take in the bathtub.  For the dinghy fun run everyone had to go to five different docks and collect playing cards for their poker hand.  Then we all met at the picnic area and Devery gave out prizes for the best and worst hands.  Everyone got a prize.  Rich did have the worst hand (a pair of 4s), but he still got a $25 gift card to West Marine.
1972 Yorktown
Later that afternoon, Rich and I went to Julius and Gizelle's boat, a 1972 Yorktown cutter.  It was nice, but I still love our boat best.  Ramble On has a lot of character and the wood inside is gorgeous.  Thiers was very functional, but felt a lot smaller.  They really wanted to see our boat so they came over and were very impressed.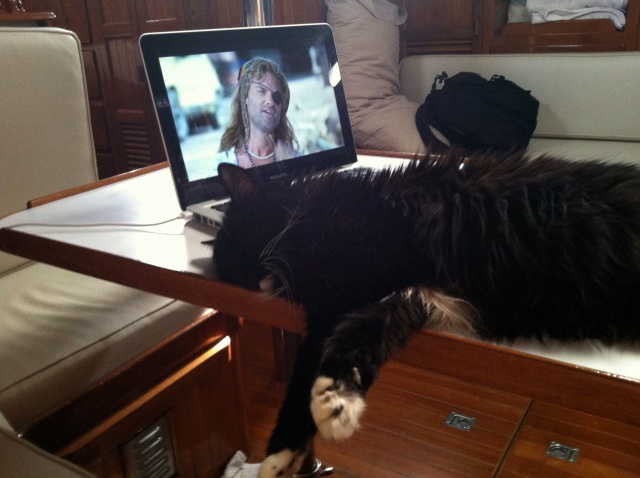 After running around all afternoon we decided to plug in the AC (that's right, we bought a window AC unit and I'm glad we did because it was close to 100 degrees Saturday) and chill out for the afternoon.  We threw Captain Ron on my computer and wasted the afternoon away.  Just after dusk, we went to the movies.  Now Playing:  Chasing Mavericks.  Devery and her crew show movies on a big outdoor screen in the summers and she provides popcorn.  It was great.
I bought a latex foam mattress topper at Costco so I wouldn't have to sleep on the jigsaw puzzle pieces that make the dinette into a sleeping area.  A twin size fit the dinette perfectly; it was Rich and I that didn't fit, but we managed.  Poor Suki, who sleeps with us every night, couldn't find a place to squeeze in so she slept on our pillows.
Plumbing
On Sunday Rich and I spent a few hours measuring and putting together some figures for all the plumbing on the boat.  The next big job to tackle is going to be the toilet and new sanitary hoses.  Rich also managed to get some fishing in and I wandered around with my camera.
Suki and I drove home late Sunday morning.  The return trip was better but she still cried and cried until we got home, then she slept all afternoon.