[WPPA+ dbg msg: Photo 492 does not exist in call to wppa_get_picture_html(). Type = sphoto]

[WPPA+ dbg msg: Photo 487 does not exist in call to wppa_get_picture_html(). Type = sphoto]

When we were looking for a marina last year, we drove by several with every intention of stopping to investigate the prices, amenities, and cleanliness, but the outside appearance of most were so whacky we drove on past.  We don't typically judge anything just by the way it looks (love those grubby dive restaurants), but when it appears a black cloud is hanging over a place on a clear, sunny day…you drive on by.  
So we only stopped at 3 marinas – Owl Harbor, Willow Berm, and Oxbow.  Willow Berm and Oxbow are sister marinas and both very nice with tons of amenities. The only problem, Willow Berm doesn't take liveaboards and Oxbow is too busy and noisy.  That left Owl Harbor.  We're not liveaboards yet, but we're pretty happy with our choice so far.  The owners are super nice and seem to be really involved in making Owl Harbor a fun place.  The only potential problem is the lack of amenities – no laundry (yet) and only one shower.  We were happy to hear that they have plans in the works to build a new building that will have laundry and bigger restrooms this year.  I'm hoping the building will be done by the time we are liveaboards or at least soon thereafter.
When we pulled into Sevenmile Slough from the San Joaquin River on delivery day the first thing we saw was Bruno's Island Yacht Harbor.  Owl Harbor is farther up the slough so you have to drive past Bruno's first.  Bruno's was the marina with the blackest cloud hovering over it last year.  From the water it doesn't look as bad as it does from the road, but it's still not great.  Some of the boats we passed looked like floating shanties; just a plywood box on top of a floating pontoon made of poly barrels and duct tape.  That's not to say all the boats at Owl Harbor are great. Several look like they are on their last legs of life.  Ours looks ok from a distance, but it's not that pretty close up.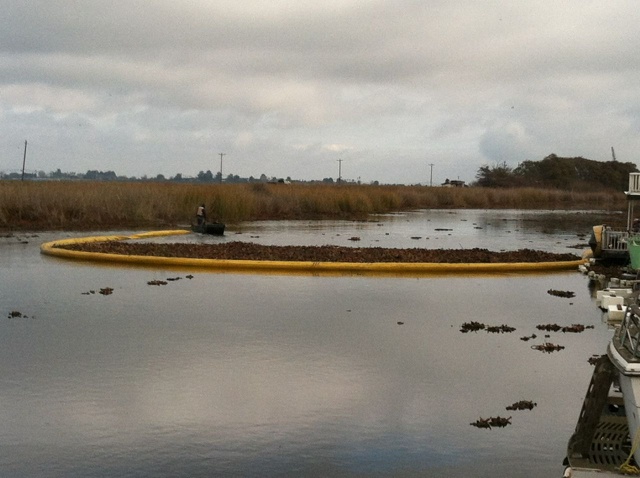 The water hyacinth has been really bad this year and the California, being broke, hasn't kept up their end of the bargain.  The Department of Boating and Waterways is supposed to spray they hyacinth to keep it under control.  Apparently they are so incompetent (big surprise), that someone didn't apply for the permit in time so now the Department of Fish and Wildlife won't let them spray.  Luckily, Owl Harbor is proactive and they have devised a way to remove the hyacinth.