Jeni is out of town this week and I won't be working down at the boat, so I decided to get some of the painting done.  Interior Lockers Phase-1 involved using Behr Premium Plus Ultra exterior latex that we read about on someone else's sailing blog.  It went on pretty nicely and Jeni did a great job with it (see the Projects Page-Interior Lockers).
After talking with my Dad who's a General Contractor and my good buddy Russ who is a Painting Contractor, they both  highly recommended Kelly-Moore Dura-Poxy+ so we decided to pick up a quart of that to test out.  Jeni painted a few of the locker shelves and I have to say, we're both more than impressed with the results.  Once it cures it's as hard as nails and incredibly scratch resistant; perfect for interior lockers.  It's also virtually impervious to stains, solvents, and acids.  Surface prep involves little more than a light sand with 120 grit to give it proper adhesion, and it lays down easily over existing painted surfaces.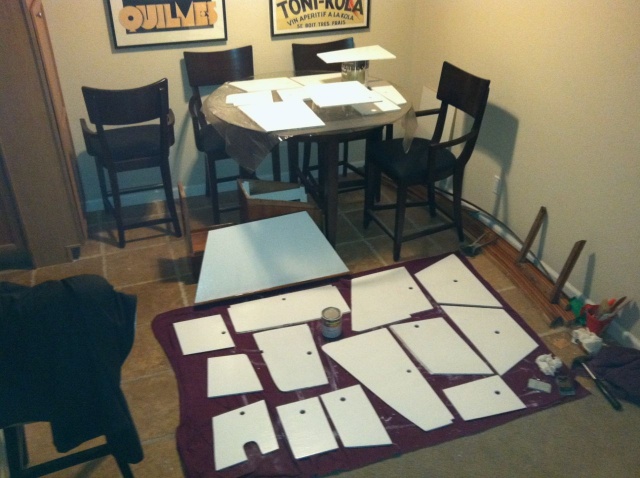 So, after laying out tarps over every available horizontal surface in our small upstairs condo, I began the painful process of doing what I hate most: painting. Two coats on the tops of the shelves, and one coat on the bottoms and edges seemed like a good plan.  The second coat went on within about 8-12 hours of the first, but I had to wait a full day to flip them over and finish the back sides.  Thirty small, irregular shaped pieces of plywood, the V-Berth filler, and the overhead galley cabinet interior took me 4 days to complete, but man does it look nice.  Now we just have to finish the locker interiors and sides of the hull on the boat, but we need to wait until the air and surface temperatures are between 50f-90f degrees.