We finally broke down and bought a dinghy. Our boat came with a dinghy disguised as an inflatable pool toy so we knew we were going to get an adult-sized dinghy eventually.  When the weather started warming up we began  contemplating getting a dinghy or kayaks or standup paddle boards.  Browsing on Craigs List the other day I found an Achilles inflatable with a Honda outboard in Napa.  
Rich called the guy and found out it was an Achilles HB 340 which is an 11'3″ RIB.  That's way too big so we were a little bummed and decided we would buy kayaks instead.  Then Rich texts me on Friday and says "maybe we should get that Achilles."
So on Friday the 13th (which was also a full moon) we drove to Napa in the afternoon and bought an Achilles that's way too big for our boat.  We strapped it to the hood of Rich's truck and drove home through rush hour traffic.  We figure we'll play around on it for a few years and then sell it for something smaller.  It came with a 9.9 Honda that's been barely used.  The whole package was $2800.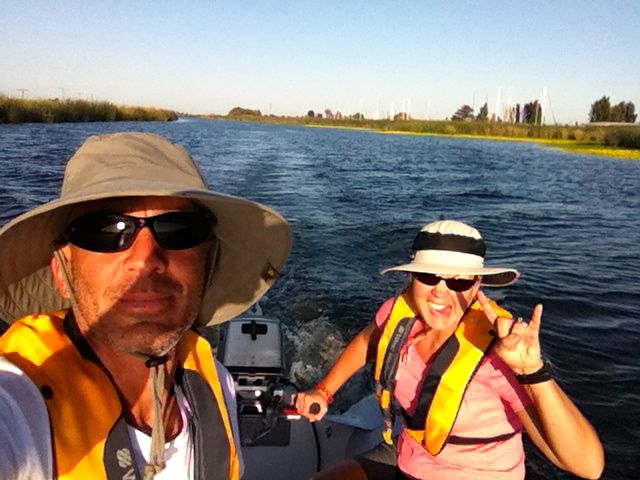 When we got back to the marina, our neighbor Bill was nice enough to help us get it off the truck, onto a dolly and into the water.  Rich and I hopped in for a test drive.  Super fun!  The real challenge will be to still get get boat work done when we have a new toy to play with.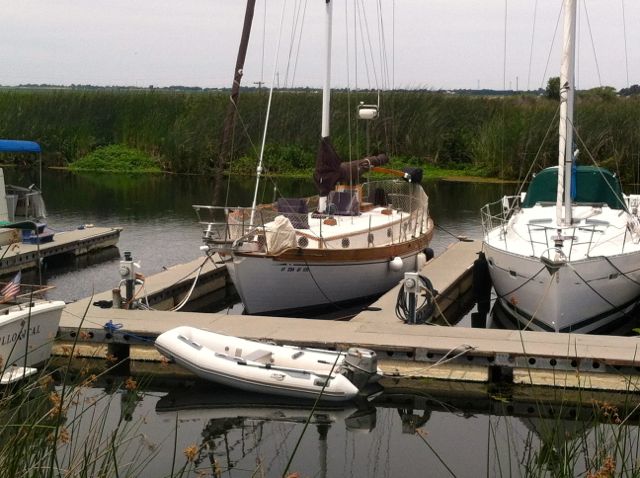 Within an hour of owning it, no less than three people asked us what we were going to name it.  Without giving it much thought we decided on Fat Suki.  Suki earned that name when she was a wee kitten and we caught her eating a raw zucchini that was sitting on the kitchen counter.  Little did we know she would actually be a small cat, topping out at 8 pounds.  It's a name we originally contemplated for our sailboat, but it'll work for the new dinghy.