"Well, you got a little dry rot here, Boss.  That's okay, every boat's got it.  You're lucky.  Yours is above the waterline.  Well, most of it anyway."  -Captain Ron
So begins the headliner removal.  We knew coming into it that the deck hardware has "some leaks".  This one seems to be coming in from the forward edge of the sea hood, just aft of the overhead hatch.  Tayana used a thin plywood sprayed with gelcoat for the inside panels of the coachroof and side walls.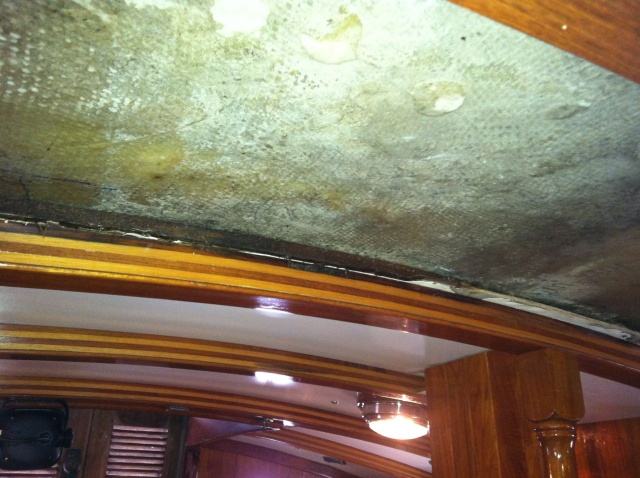 We planned on taking them down anyway in order to insulate the hollow air space overhead, and then replace them with smooth FRP sheets.  Problem is that the panels are captured underneath those beautiful teak & holly laminated batten strips and I need to figure out how to remove those without destroying them.  Mom & Dad got us the Fein Multimaster deluxe kit for Christmas and I had the chance to play with it a little bit today.  It's really a nice tool, and makes hardly any sawdust.  Those Germans sure got it going on…..
Check out our Headliner project page to see the Multimaster in action