Boat projects are sometimes like a game of ping-pong; back and forth, and occasionally spinning off in unpredictable directions.  Last week I got a few more layers of pink styrofoam installed inside the refer box.  
Refrigerator Insulation
Each additional inch of insulation means the compressor (and our battery bank & charging system) will need to work less to remove heat from the box, but at the same time each additional inch of insulation reduces the overall quantity of food we can keep cold.  The proverbial double-edged sword.  We may only have one ice cube to split between us, but it will certainly be the coldest damn ice cube on the planet!!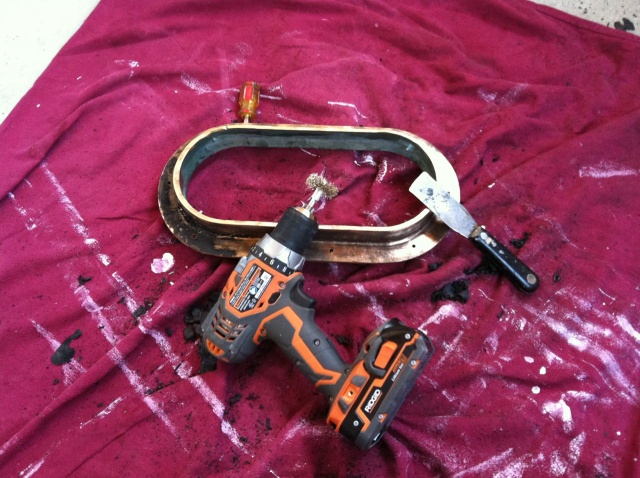 Portlight Glass
We found a local glass shop that was able to cut the 8 oval and 3 round port light lenses from laminated safety glass for a relatively reasonable price.  The rubber window gaskets and the butyl bedding tape we ordered finally came in the mail, so it's time to finish polishing bronze and get the two ports we removed back in the boat.
Clorox toilet bowl cleaner (the kind with hydrochloric acid, not bleach) does a decent job of removing the green, and a fair bit of scrubbing with a wire brush and some Scotchbrite shines them up nicely.  The FLITZ metal polish and a power buff with the cordless drill puts the finishing touches on the 37 year old cast bronze.  Huge pain in the ass and very time consuming, but they sure do look good when it's all said and done.  The new glass installed looks amazing compared to the yellowing and de-laminating original lenses, and the new gasket rubber will keep the rain and the ocean on the outside of the boat where it belongs.
Two down, nine to go…..