Ever see the Seinfeld episode where Kramer had a fighting chicken named Little Jerry?  Hilarious!
A few weeks ago Devery, the marina harbormaster/owner, got a delivery of chicks in the mail.  They're growing up quick and a few are becoming aggressive roosters.  One of the neighbors told us that last year one of the roosters was so aggressive they named him chicken marsala (get it?)  There are already a few chickens in the coop and when the new chicks get big enough they'll go in the coop too.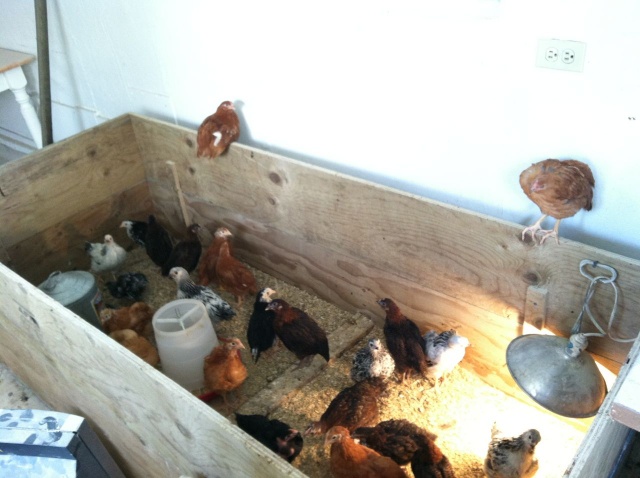 Rich took out the Mariner stove this weekend.  We don't know if it works because the propane system isn't hooked up, but one of the burners is pretty rusty.  It's a 2 burner stove top and oven, but we want a 3 burner stove/oven.  Finding a replacement has been tricky.  The stove is gimbaled and the swing angle of all the 3 burner stoves we've found so far won't fit in the opening (more on the Propane project page).
We found some metal rods in the chart locker and had no idea what they were until today.  Rich figured out they are the pot holders for the stove.  Who knew?  Glad we didn't throw them out.
Rich is heading to the boat for a few days this week to glue some of the insulation in place and to organize the storage unit.  When we moved from our house to the condo, we had to put some stuff in storage, tools mostly.  Now we're moving everything from that storage unit to a bigger one at the marina which Rich can use as a workshop.  It'll be nice to get all the boat bits out of the spare bedroom so we can actually get to the window to open the blinds.