March 1st and it's 75 degrees…it's madness, I say!
Rich spent most of the week at the boat.  He figured out where most of the shelves go, but somehow he ended up with some spares.  The doors are back on the cabinets and all the crap spread around the boat while I painted, is now put away.  I can only handle messy chaos for so long, so needless to say, I'm relieved to have that project done.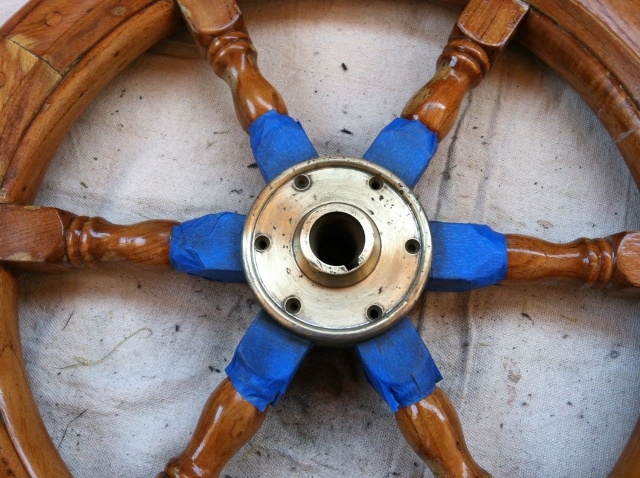 Rich brought the wheel home a few weeks ago and was going to take it apart to refinish it.  Turns out, that sucker is a real pain to get apart.  The new plan is to refinish it as one piece.  The hub in the middle was really oxidized and green, but after a few hours of scrubbing, it's about half way to being oxidation-free.  He's was using a Scotch-Brite pad and not getting very far (spinning his wheels, so to say), then he switched to 220 grit sandpaper and things are looking up.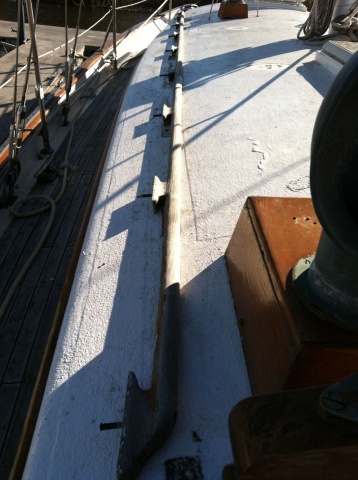 He also removed the teak grab rails on the coach house roof and filled in the holes with epoxy.  The grab rails haven't seen a lot of love over the years and I was sure that if anyone employed the use of one of our grab rails, they would pull back a bloody stump, their former hand impaled on the cracked and splintered grab rail.  The dilemma is where do we get 15 foot pieces of teak at a reasonable price.  The answer:  we don't.  We're going to replace them with either stainless steel or shorter sections of teak.  It's a little disappointing that we can't keep the original teak grab rails, but trying to sand and refinish them would probably compromise the structural integrity.  Teak grab rails don't last forever, and it's time to say good-bye to ours.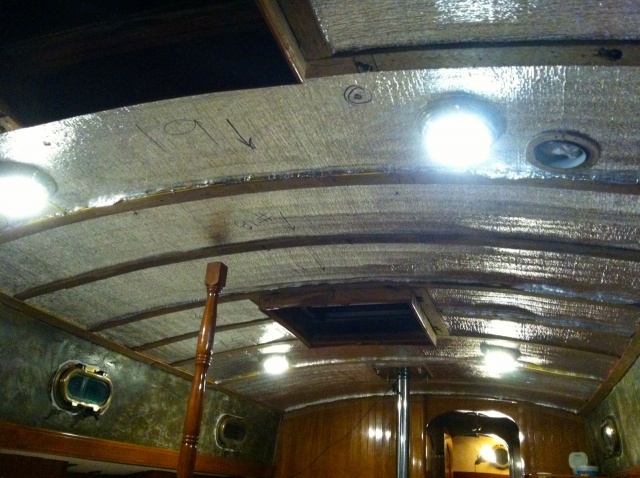 On Saturday we measured and cut the insulation for the ceiling.  We decided not to glue it in place yet, since we have to pull it down to mount the deck hardware later.  It feels a little like a spaceship with all the reflective foil.  We got the last storage unit with power outlets at the marina so next week we are moving Rich's tools so he can get busy with the FRP.  I added a short video to the deck hardware projects page