Since everything metal on our boat is either covered in verdigris or rust we decided to pick up some metal polish while we were at the boat show.  More of an impulse buy than a decision, but we knew we needed it as soon we walked past the vendor's booth.  It's made by FLITZ, and they con you into buying the drill-powered buffing wheel and microfiber polishing cloth by offering you a better price than if purchased separately.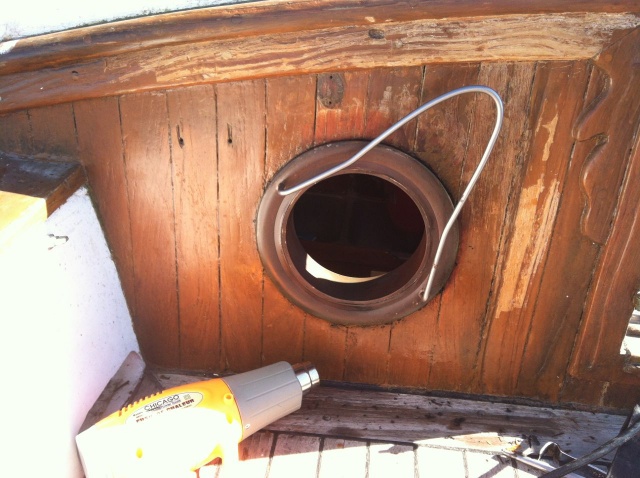 We eventually want to polish up all the bronze port lights since we need to remove, re-glaze, re-gasket and re-bed before reinstalling them.  One of "us" thought it'd be a good idea to start with the little round one in the cockpit.  That way if it did or didn't work out, it's off by its self where it won't draw attention to all the other ugly ones.  Besides, it's just one more thing to tear out with no hopes of getting it put back together…..
Tricky little sucker to say the least.  Once I removed the two two exterior screws and sprayed a liberal dose of WD-40 onto the threads, I twisted off the ring using a re-purposed deck fill key I found in the chart table.  And with my third hand I simultaneously warmed the ring with a heat gun to soften the butyl caulk while tapping on the "wrench" with a hammer.  It sounds easier than it actually was, and after making very little headway with the heat gun I finally resorted to using a blow torch (no, I'm not joking).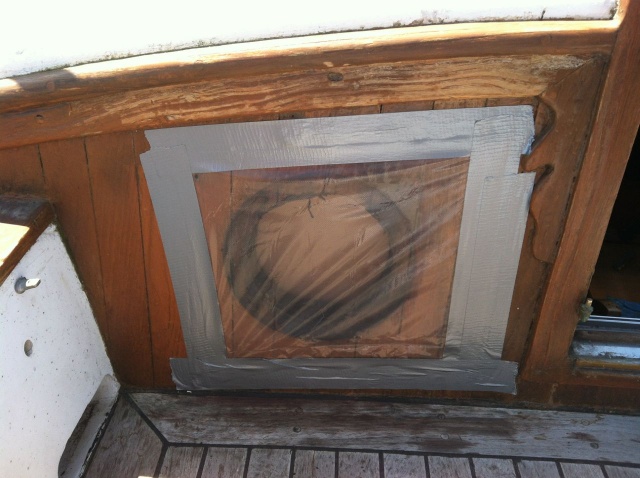 "Don't burn down the boat please" were the last words Jeni said as she went home for the weekend.  Fire extinguisher close at hand I finally finished the job the following morning to the applause of our powerboat neighbors who'd been periodically checking my progress through their sliding glass door.  We now have a piece of clear painter's plastic held up with duct tape as our cockpit port light.  Looks like we're going to fit right in with the other live-aboards down here in the Delta…