Rich is off work for the next TWO weeks, so there is no rest for the wicked – it's project time again.  I briefly mentioned to him a few months ago that it would be nice to get the final paint and non-skid on the cabin top before winter.  That way next summer we can finally finish the side decks.  I guess that stuck in Rich's head, because he decided to tackle this project before starting his new job.
The Process
Doing any project on a boat is like building a house of cards.  It's never as simple as it should be, it's never just one thing that needs doing, and one mistake will bring the whole thing tumbling down.  Before Rich can paint the cabin top, he wants/needs to fix the two overhead hatches.  We have two Bomar hatches that are in decent shape.  We considered buying new hatches, but they're frickin' expensive!  The middle hatch alone would cost us close to $1,000 to replace.  So plan B is to refurbish them.  The forward hatch is directly over our bed in the V-berth and it has a very finicky leak.  When it rained last winter it didn't leak.  When we washed the boat a couple of weeks ago, we noticed a big wet spot, about the size of a dinner plate, on the bed.  This has gone on since we bought the boat.
The Repairs
Rich started by taking off the top of the forward hatch frame and it got a little bent in the process, but Rich is pretty sure he can straighten it out again.  He's going to fiberglass over the wood frame, then fair it nice and smooth before paint.  The hatch itself is aluminum.  At one time something landed hard on the forward hatch and made a big dent in the polycarbonate lens and aluminum frame.  It's been that way since we bought it and the dent holds water when the boat gets wet.  He's going to strip it, fix the bent bracing arm, paint it and then put a new polycarbonate lens on it.  The middle hatch is in better shape and doesn't need to be repaired; just stripped, painted and a new polycarbonate lens installed to replace the old, crazed polycarbonate lens.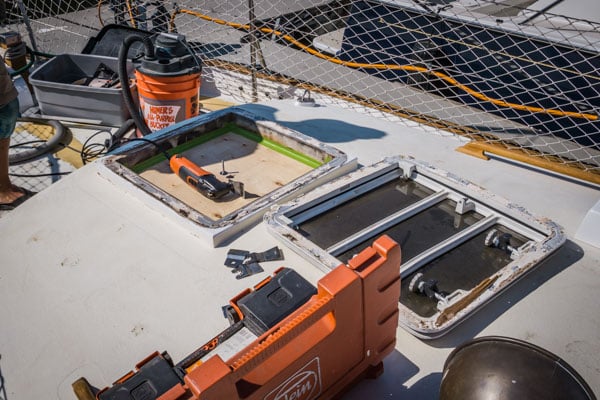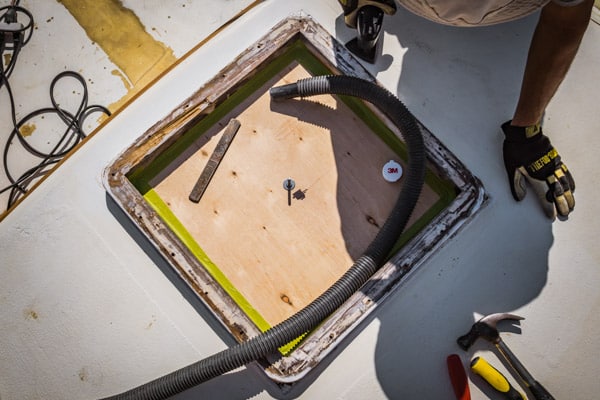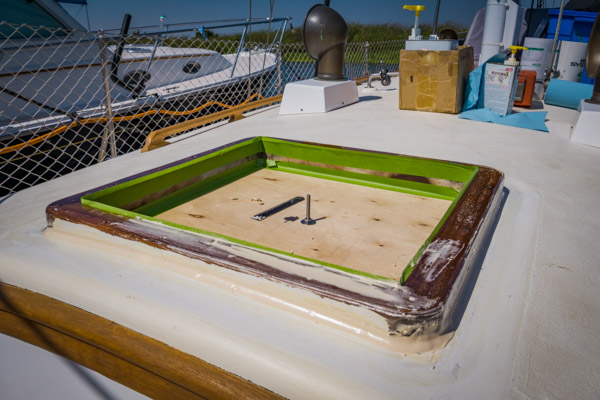 The Paint
After all that, he can prep the cabin top for paint; which will include a lot of masking.  First he has to paint on the white Interlux Perfection glossy paint.  That goes just around the edges where there won't be non-skid.  After that cures, which takes a couple of days, he can mask off the parts he just painted and paint on the gray Intergrip non-skid over the rest of the cabin top.  I'm really hoping he has time to finish before he starts his new job.
On a Side Note
We live in a rural area surrounded by field crops, mostly corn and alfalfa.  A few times a year this crop duster sprays the fields with whatever (herbicide, fertilizer, some other kind of poison).  Anyway, for about 30 minutes yesterday he dive-bombed the marina and came very close to the masts.  From what I've heard, the guy is kind of crazy anyway.
Cropduster from Ramble On on Vimeo.