So since all the work bedding the deck hardware was complete, and the boat was moderately watertight, Sunday is dick-off day.  Time to curl up on the settee and spend the next 5 or 6 hours nonstop finishing up Season 2 of Breaking Bad.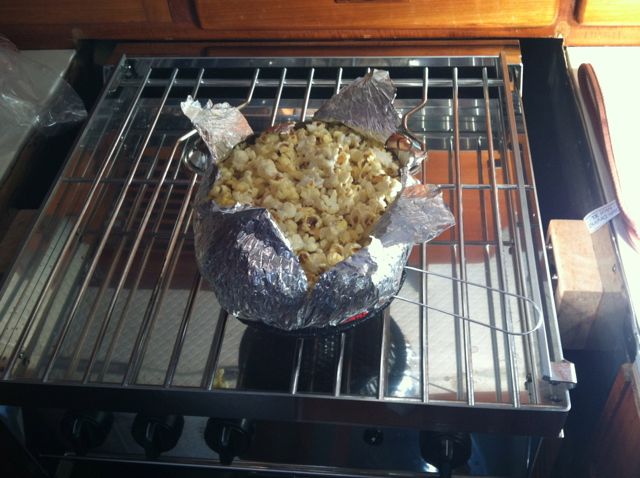 If you're reading this and you're younger than 30, or you were raised in a cave on the outskirts of Siberia you probably aren't familiar with life without a microwave oven.  Y'know, the little box over the stove top that uses radio waves to excite water molecules into a rapid frenzy until heat is generated (or something like that)?  If you're older than 45, you probably remember mom firing up the 8 quart kettle with a little oil and corn kernels on a Saturday night.  If you're somewhere in between, you probably remember Jiffy Pop.
Jiffy Pop is a neat little self-contained aluminum skillet with an expandable tinfoil lid that has everything needed to make popcorn right inside.  I believe that it was originally engineered for astronauts until NASA realized that open flame in an oxygen-rich environment wasn't prudent.  Thusly, it was heavily marketed to the American Consumer back in the mid-1970s.  Since we live on a boat and our shore power supply averages about 20 amps (and, we don't have the space for one), we cannot manage to have a microwave on board.  Hence, no more microwave popcorn.  Hell, Jeni has to turn off the water heater just to use a hair dryer without tripping the breaker.  All one needs to prepare an exquisite bowl of Jiffy Pop is a gas-fired cooktop (check) and about 3 minutes of one's busy schedule (check) to make delicious popcorn right in your own galley.  Not much longer than it takes in the microwave and it's a lot more fun than staring at a rotating bag inside of that glass box, waiting intently for the precise moment to yank it out before it gets burnt to a blackened crisp.  Y'know? 2 minutes 45 seconds isn't long enough, yet 3 minutes is too long.  "Cooking times may vary."
Anyway, don't ruin it for me and tell me what happens in the season finale of Breaking Bad this week.  We're just starting in on season 3.