I finally got everything faired smooth (I think) inside of the new coaming extensions on Friday.  I figure at this point just shoot for pretty smooth.  This weekend Jeni and I fired up the sanders and vacuums and went to town doing what we love to do…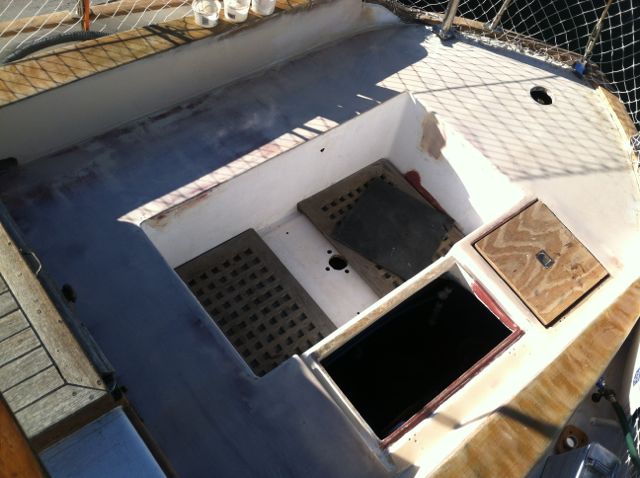 The cockpit seems pretty large now with the steering pedestal removed.  Not quite so when you insert two adults wielding corded power sanders attached to vacuum hoses.  After something like five hours worth of untangling cords and hoses (with quite a bit of sanding mixed in) we managed to get all the surfaces pretty close to where we want it.  We'll be able to tell better when we get the first coat of primer applied.  Even with a vacuum attachment it still gets pretty dusty, so everything (including Jeni & I) got a good hose down afterward.  That evening we enjoyed a well deserved dinner, kicking back and relaxing in our newly smoothed (and clean) cockpit.
I set up the camera, but only captured about an hour and a half of the festivities before the battery died.  Since no one in their right mind would want to watch more than about 2 minutes of someone sanding anyway, I went ahead and sped it up a bit.  Next step: Interlux Epoxy Primekote.
Cockpit sanding from Ramble On on Vimeo.