Just forward of the knee space under our chart table is a tall, narrow, and deep locker with several shelves for storing rolled paper nautical charts.  At 8 inches wide by 23 inches tall, and nearly 36 inches deep, this locker is the perfect place to stash copious quantities of rolled up paper… but not much else.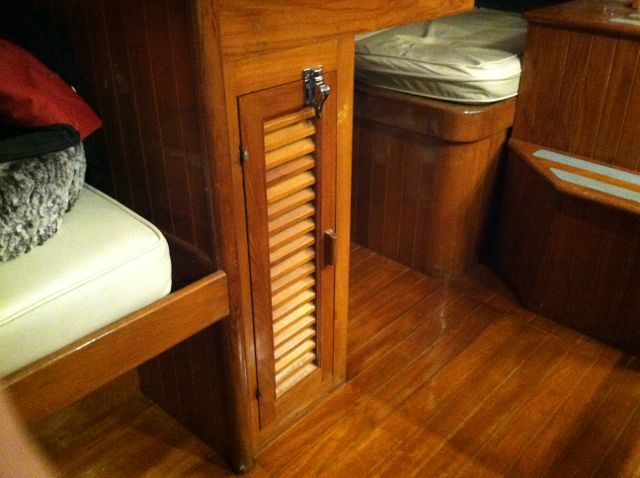 The previous owner left us quite a selection of  California coastal charts ranging from Mendocino to Monterey, and San Francisco Bay.  When we moved aboard, the charts went into storage and the chart locker became just another place to store mixing bowls and kitchen gadgets.  Problem is that it's so narrow hardly anything fits inside, and it's so deep the stuff we don't use as frequently ends up shoved to the back never to be seen again.   Another one of those well planned wastes of space in the design of the boat.
We have a lot of canned goods on the boat, and I suspect we'll be taking even more with us when we travel.  Also, we keep a good supply of chicken stock and vegetable broth aboard for cooking.  Storing things like these under the settee makes it a pain in the butt to get to when you need them.  Another annoying little quirk about our storage situation is the drawer over the stove.  The logical type of things to put there would be cooking utensils, right?  All fine and good 'til you need a spatula, and there's two simmering pots on the stove blocking access.  So with that criteria in mind, a little plywood and some full-extension drawer slides, I went to work building a slide out pantry cabinet with focus on storing food stuff and cooking utensils.  Now we have room for about 14 cans and a dozen or so cartons of chicken stock/almond milk on the lower shelves, and an upper shelf devoted to spatulas, tongs, cutlery, cheese grater, potato masher, etc; all within easy reach of the galley.