We like to cook.  Mainly because we're saving every penny to go cruising and can't afford to eat out all the time, but also because we tend to eat healthier when we cook at home.  And, because it's at least a 20 minute drive to the nearest decent restaurant from where we're tied up.  Problem is, trying to access all the necessary components during the process.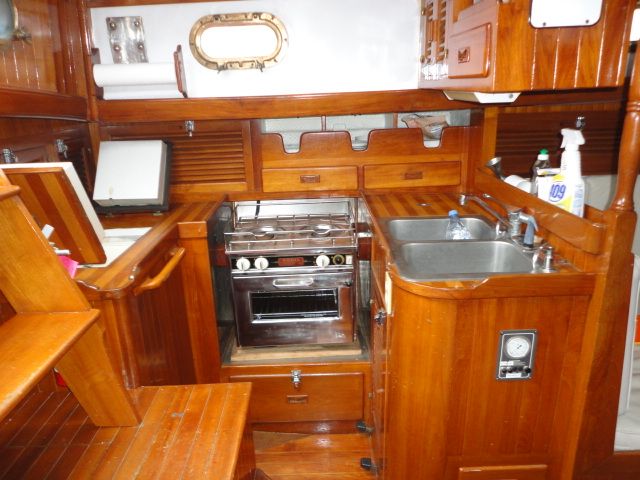 If you've been reading our blog for any length of time, you may have noticed  most of our boat projects lately have been trending toward maximizing efficient use of the limited amount of space we have on board.  Now that we've been living on a sailboat for a while, we're starting to figure out what we need, what we don't, what fits where, and then, trying to remember where we stowed it.  Most of it is fairly well organized, but the galley has always been a bit of a challenge.  One of the port side utensil drawers slides out directly above the back burners over the stove, and the locker just to the left of it has a tilt-down door that lays across 30% of the aft countertop (as well as part of the stove) when opened.   Getting the overhead cabinet back up helped a lot, but the main lockers that we use on a daily basis needed some serious attention.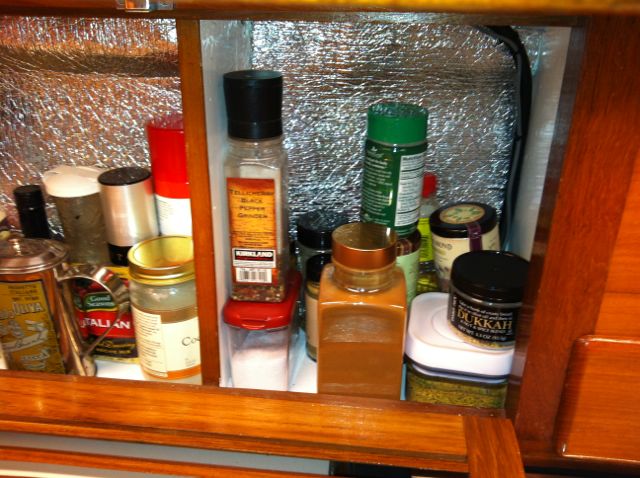 A large part of cooking is in how you season it.  Plain old rice just sucks, but throw in a little herbs and spices and suddenly your friends are telling you you're an f'n gourmet (no, Rice-a-Roni doesn't count in this reference).  Spices prefer to be kept in cool, dark, dry spaces in order to maintain their wonderful attributes.  Exactly the opposite of the conditions you'd usually find on a cruising sailboat.  So I guess that cute little lazy susan thingy from Crate & Barrel with all the spices in clear jars and organized by geographic region proudly displayed in the middle of the salon table is out of the question?   Anyway, getting to our stash of spices in the port salon locker was always a bit of a hassle, and the spot in the galley where we kept the day-to-day basics was a jumbled mess.    Reaching the salt with a pot of boiling water on the stove was like trying to play Jenga with one arm tied around your ankle.
With some bits of salvaged plywood and teak from another part of the boat I crafted us up a little spice shelf just above the area we use the most when cooking.  I may need to add a removable fiddle to keep the jars from tipping when we get underway, but for now it'll work.  Now, we just need to figure out what to do with the locker to the left…