Jeni and I were out for a ride in the dinghy not too long ago when she noticed water wasn't streaming out the indicator tube in the usual "like a race horse" fashion.  That stream is supposed to let you know the pump is picking up cooling water and circulating it through the engine, and a lack of water can spell certain death for a small outboard.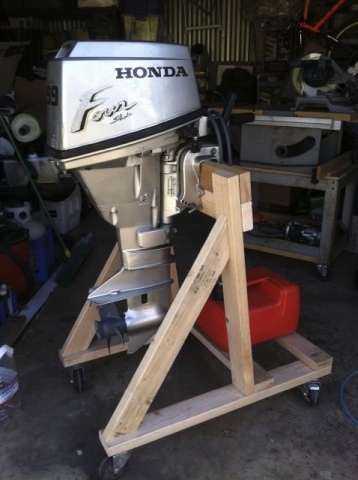 With only the slightest trickle of cooling water "peeing" out the motor we managed to limp her back to the marina at idle.  My first thought was that we picked up some weeds and they were  blocking the water inlet, but a quick check of the lower end showed a clear strainer.  Next guess was that the water pump impeller might have lost a few blades, or (after some Googling) that the thermostat might be bad.  I found a Honda repair manual for download online, along with a set of plans to build an outboard motor stand (which I would need in order to do the repairs).  A couple 2 X 4's and a hand full of screws later I had me a nice little place to hang my engine, and a set of heavy duty swivel casters made it so I could easily move the 100lb. Honda around the work shop.  The plans cleverly included a spot in front of the motor to set the gas can, and a space underneath the prop to stick a Rubbermaid tub full of water for a test run after repairs.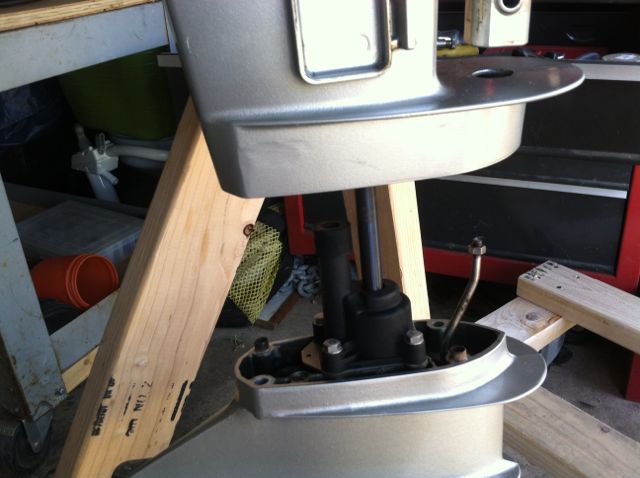 Whomever owned the engine before must have ran this thing in salt water without flushing it with fresh water afterwards.  In order to separate the lower unit from the motor housing you have to loosen the gear shift coupling nut, and ours was rusted tight.  No amount of PB Blaster was going to make a difference, and I ended up shearing off the lower shift rod in the process (add one more part to the list).  Once I got her opened up, the impeller didn't look great, bit it didn't look broken either.  But when I popped the thermostat housing, the amount of crusty crud caked on the thermostat and blocking the water passages was quite impressive.  Water was barely making it into the engine block.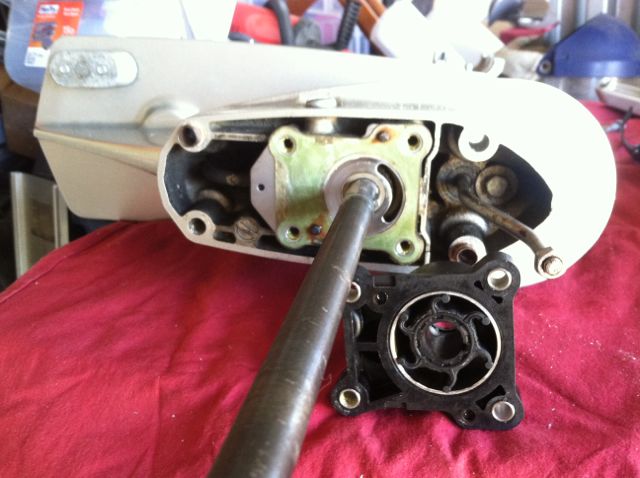 After nearly a week of tracking down parts and reading every outboard engine chat forum I could find on the internet (yes, they even have chat forums for those), I managed to get her put back together.  New thermostat, impeller, gaskets, gear oil, etc.  I also got a new lower shift rod, but wasn't able to procure the coupling nut from the local Honda shop and had to reuse the old one.  It's a left-hand/right-hand threaded coupling nut and didn't want to wait a week to order it online, plus, one place wanted something like $30 + shipping for the stupid thing.  I drilled out the rusty stub that broke off inside and then ran it through with a 6mm X 1.00mm tap to re-thread the nut and it ended up working perfectly.  Once I got the lower unit reattached to the motor, it took a bit of farting around to get the gear shift timing correctly adjusted, but after several attempts I managed, and after a quick test run in a tub full of water it was ready to go back on the dink for an "on the water" test drive.  Thankfully everything worked right and our little "single-pull" 1997 Honda BF9.9A outboard is once again pissing like a fire hose.