[WPPA+ dbg msg: Photo 1283 does not exist in call to wppa_get_picture_html(). Type = sphoto]

I had the chance yesterday to take a break from boat projects and do some fishing.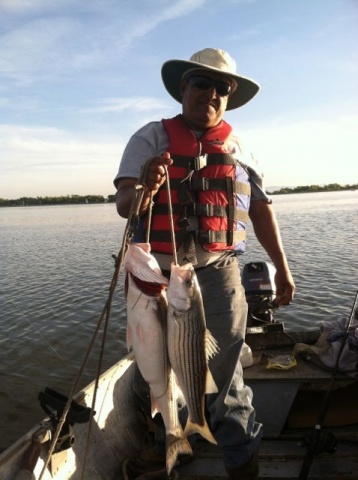 Javier, one of the guys who works at our marina invited me out to do a little trolling for striped bass a couple weeks ago.  He's been doing pretty well with the stripers lately, and I finally had a few minutes to go out to his "secret spot" last evening and hang a limit.  Thats all it took.  A few minutes, because literally within 5 minutes of lures in the water Javier was reeling in his first at around 24 inches.  Nice!  The bite slowed down for an hour or so, but when the tide started falling it was Bam, bam, bam, bam.  All within about a half hour.  One short, and then 3 more keepers. Largest (mine) went 29″ at about 8-10 lb, and a couple of 22 inchers at  5 lb +/- each.
Not bad.  Legal limits within a couple hours of "relaxing", and as a bonus, fish on the grill for dinner tonight.  I really love living down here on a sailboat.  Here's a little video of some of  the action.