Well, not actual Holly.  More like some kind of light-colored hardwood that contrasts nicely with the teak.  Real Holly is incredibly expensive and very hard to come by in large quantity these days.  I started on  removing the overhead grab bars running down either side of the cabin top this morning, but not without first severely damaging the long one to starboard in the process.  As I was attempting to carefully extract the teak plug which covers the fastening screw, a bit of varnish grabbed the edge of the hole and proceeded to rip away a large chunk of wood before I could stop the drill.  Pretty sure I can fix it, and a 10′ long piece of straight grained teak is going to be damn near impossible (read: expensive) to obtain if I have to fabricate a new one.
How to find those hidden screws: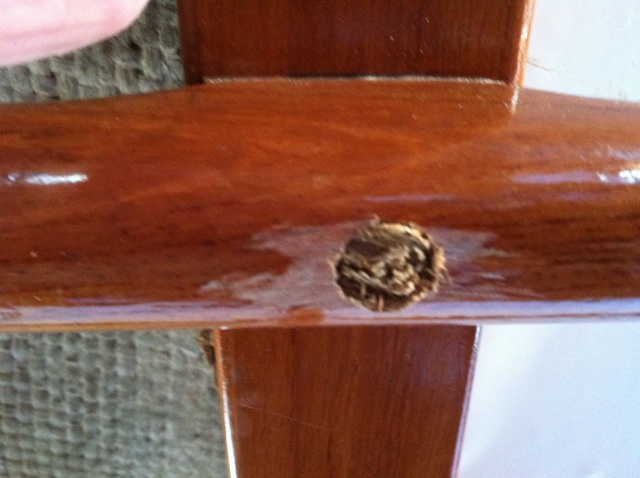 Chisel all around the edge of the teak plug covering the screw without jacking up the surrounding wood (Doh!!)
Drive a coarse-thread wood screw into center of teak plug until it bottoms out on head of existing fastener
Continue to tighten wood screw and watch in amazement as plug is magically extracted from it's hiding place (whilst peeling up the surrounding woodgrain in the process)
Retain all little chips of varnished teak somewhere safe so as to be glued back into place like a jigsaw puzzle at a later date
Repeat steps one through four 783 more times
Once the grab bars came down, I started to work on figuring out how those laminated battens that hold up the headliner are fastened to the cabin top.  Turns out that there's a thin teak strip glued to the battens, which are screwed into mahogany strips, which are nailed (yes, nailed) to the fiberglass cabin ceiling with tiny little ring-shank nails.  The gel-coated plywood headliner is captured in between the battens and the mahogany strips.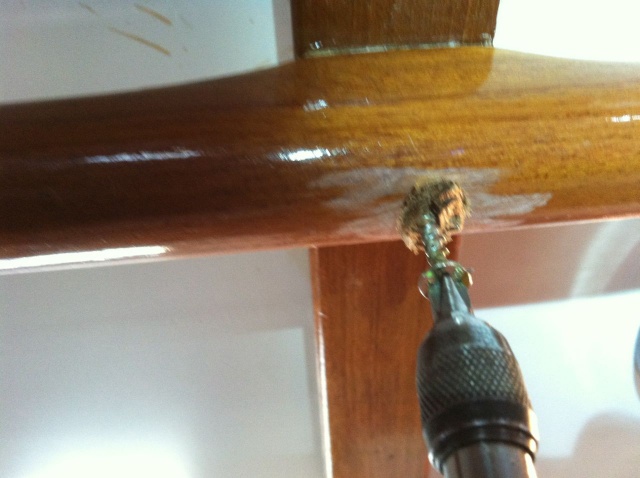 I prefer to call this next step "Exploratory Demolition".  First one didn't turn out so well and I pretty much destroyed it.  Once I accepted the fact that all the teak cover strips would end up in the dumpster (replacements to be fabricated on site at a later date), the removal became much easier.  The adhesive they used (circa 1977: Taiwan) has the most incredible bonding power known to man.  Obviously toxic, most likely illegal, and definately unobtainable in present day enviro-consious California due to intense restrictions on allowable VOC content.
Jeni showed up with some fresh coffee and a warm snack just as I was in the process of painting the sky purple with creative conjunctions of every known expletive in the English language.  After a short break and a little brainstorming, Jeni suggested using the heat gun on the wood to loosen the adhesive while I chiseled and pried with every available tool in my box.  It worked, and I must say that ain't no hat rack on that girl's shoulders!!  Sometimes it takes an outside perspective to make the blatantly obvious seem not so far fetched.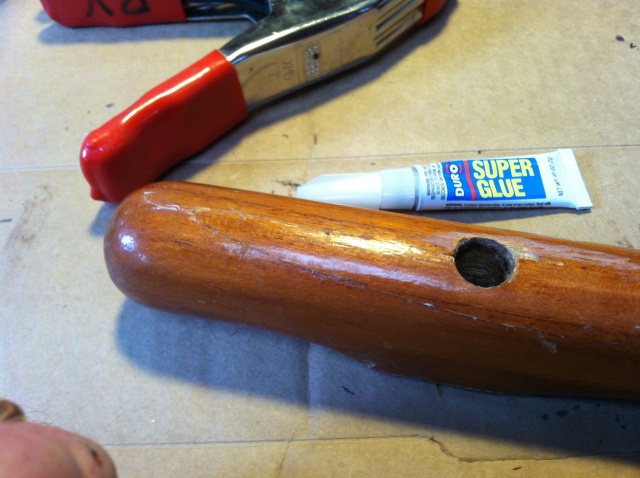 Oh yeah.  I was also able to fix the damaged grab rail with some super glue and a couple clamps.  A little sandpaper and varnish, and you'll never know the difference…..