We've scrambled around the for the past four days moving a house-load of junk into a boat that's smaller than our master bedroom.  We're exhausted to say the least.  
The storage unit at the marina is stuffed full of junk that won't fit on the boat, plus all of Rich's tools, boat parts we still need to install, boat parts we need to sell or throw out, and a pile of stuff my mom wants.  We still don't have a toilet or a stove; the refrigerator is working great, but it's not done yet (still need latches, a shelf inside, and another layer of gaskets.  The good news is there is actually a lot of storage space on this boat.  I've been able to find homes for all the essentials.  Finding them again when I need them is another story.  Needless to say we haven't been doing a lot of cooking.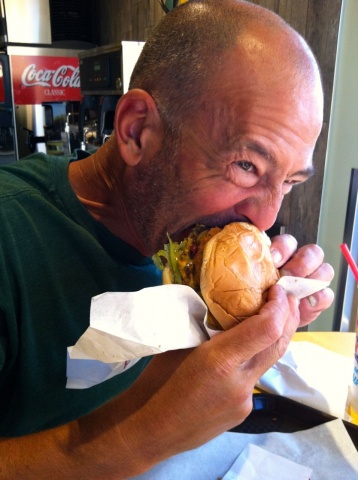 This is a burger Rich ordered at Nations.  It's a 3/4 pound bacon cheeseburger with onion rings and green chilies.  The manager made a point of asking him if it was good because they'd never made one before and he said it was really hard to make (whatever that means).  Plus Rich ate most of the fries.  And he's lost about 15 pounds since we started working on the boat this spring.  Go figure.