Happy New Year!!  A few parts I needed showed up in the mail this week so I spent a little time working on the Electro Scan wastewater treatment system.
Our plan for the installation of the treatment system involves the option to also be able to use the holding tank if needed.  One of the things I needed to make this plumbing system work the way we want was to install a wye diverter valve.    This valve allows us to switch back and forth between the treatment tank and the holding tank.  From what I've read, diverter valves on a boat tend to be one of those mechanical devices that has a tendency to cause problems.  Either they leak and stink, or they don't work when you need them to.  Or, they just plain break.  Unfortunately, they're a necessary evil if a boat's plumbing system gets much more complicated than the good 'ol 5-gallon bucket.    A few years ago, Practical Sailor did a test and review of several different manufacturer's valves, and the Jabsco valve came out with some of the highest marks for function and reliability.  It also incorporates a little locking ear which some states require as insurance against accidental overboard discharge.  And at just over $60 it was also one of the cheaper models, which is a good thing because we ultimately need 2 more to allow us to pump directly overboard.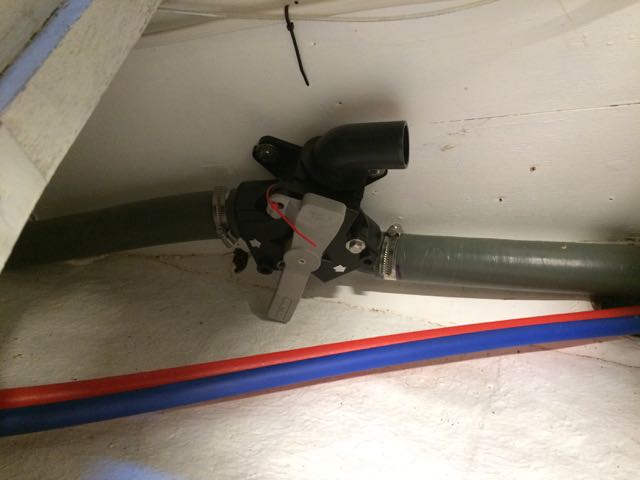 Installing the valve was fairly straightforward and aside from a few ugly details, involved little more than cutting into the waste line and using a couple of hose clamps to tighten it up.  The visible arrows tell you which way the waste is flowing, which is opposite of the way the handle is pointing.  I found this somewhat counterintuitive since I'm more familiar with valves that use the position of the handle to indicate flow, but I think I can get used to it.
Speaking of valves, I also received the two true-union 1-1/2″ ball valves I needed for the plumbing connections to the treatment tank.  Being able to turn off flow while keeping any liquid inside the lines, as well as being able to disconnect the tank while doing so could come in pretty handy when doing any maintenance on the treatment tank.  And unlike the Jabsco diverter, these handles clearly indicate flow at a glance.