Man, the projects keep stacking up and I feel like I'm pissing into the wind with this refrigerator/freezer rebuild. I like to think I'm pretty good at working with my hands, but fiberglass just plain sucks. I hate it. It's every where.  Little bits of sharp, pokey fibers floating about the boat. I even found some in my underwear the other day when I got home (don't ask me how).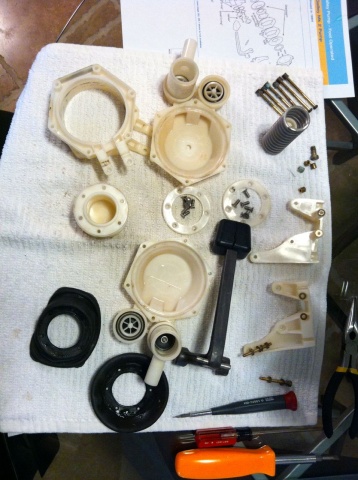 Other Project Updates
Jeni rebuilt one of the three Whale foot pumps and it came out pretty nice. Our new Lavac toilet showed up on our front porch and I think the UPS guy is getting tired of dragging our heavy packages up the stairs. We went to San Francisco Monday and ordered up the v-berth mattress and the guy said we did a nice job tracing out the pattern. Let's hope it fits.
So here I sit watching thickened epoxy cure, waiting to sand it smooth so I can smear on another coat….. and then sand it smooth again and smear on another coat.
Ughhhhh!